August 8th, 2010
Another beautiful, gentle, windless Sunday morning in Coaldale. The sun has come up and is warming the garden and the birds have been fed and are enjoying the morning dew on the grass.

We have a wonderful garden this year despite the inclement weather and the harsh rains and cold weather. Last year we put the sweepings from under our busy bird feeder into our vegetable garden. There were lots of left over seeds of the bigger variety that the chickadees and sparrows couldn't eat and the crows, flickers and other larger birds missed when foraging. Amongst those were several dozen uneaten sunflower seeds. They germinated and we have grown about 25 huge sunflowers where we had discarded them and ground them into the garden when rototilling this spring.

The sunflower is one of my favorites. They are big and happy like a big happy dog, full of life and energy and delighted to shine their bright golden faces towards the sun and to follow it during the day across the sky. We have planted potatoes this year too and Maggie put some marigolds amongst them to keep the potato bugs away. It has worked perfectly. We have not seen a single one and the plants are robust and we look forward to a harvest of fresh, plump potatoes in the fall.

As the day warms up, birds will come down and feed and take a drink from the bird bath in the centre of the garden. It is going to be a good day today and we will probably take some time to sit in the garden and survey the handiwork of ourselves and God. I am content.
August 5th, 2010
I should tell you about Patches. I used to run a professional image service for painters in the lower mainland of Vancouver from 2002 to 2004. I would load up my lights and gear and visit painters homes or studios and document their paintings for submission purposes. These were always shot on slides and then I would take them back to my studio office and crop them so that they could be used by the artists for submitting their work all over the world to galleries, contests and shows. This one day I was on the 12th floor of an apartment overlooking English Bay in Vancouver's West End and this little guy Patches followed me around from room to room watching me. After awhile I asked the artist if she minded if I took a picture of Patches and she replied "I would have thought that you would have figured that out by now. He has been asking you for two hours already!" He was a great subject indeed. Look into his eyes and realize that they watch you from everywhere in the room. We have this image prominently displayed on our wall at home and it always catches the attention of visitors. Thank you Patches for allowing me to take your picture that morning.
July 28th, 2010
I invite everyone to go to my other sites to see what it is I do. Here are the links: www.tombuchananphoto.com www.thebuchanangallery.com

You will find a lot of information from courses to stock photos available for purchase on these sites as well as pricing and information on weddings, portraiture, commercial, event and other specialized services that I provide.

See you there.
Tom
July 18th, 2010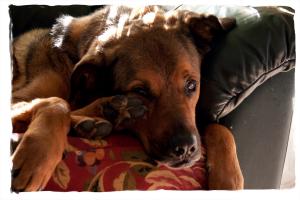 It is quiet and only the ticking of the clock and the contented groans of our old dog Milton when he stretches and adjusts himself on his bed break the silence. The early morning sun is coming through the windows and the lush green of our lawn and the shadows of the trees in the front yard paint a mosaic of light and dark. It promises to be a good day, warm and windless and one that beckons me to get out there and capture some summer images again. What a wonderful life in a wonderful time and place. It is good to be alive. - Tom